Kayakers Alliance of Larchmont and Mamaroneck (KALM)


KALM is a new organization of Sound Shore community kayakers, started in 2005, already with over 100 members.

KALM is interested in improving kayaking opportunities on Long Island Sound. We are advocating for better water access (see Launch Sites below) and more near-water storage opportunities for local kayakers in the Larchmont, Mamaroneck, New Rochelle, and other nearby Westchester County, NY communities.

We are also interested in collaborating with other paddling groups and advocating with politicians and community leaders to obtain better public access to the shore throughout the Northeastern US.

Forum and EMail List
Kayakers Alliance has a Forum where you can read (and post information) about local kayaking events and opportunities, meet local kayakers, and buy/sell/trade equipment. [Note: this is a new location for our forum, so please bookmark this page]
We also have a EMail List which will keep you up-to-date about our organization and plans.
YES, I would like to join the KALM Forum: go to KALMonline Forum
YES, please put my name on the KALM EMail List: send email to kayakthesound@gmail.com
with header "JOIN EMAIL LIST"
Articles about our organization
In Larchmontgazette.com
Kayakers Launch Organization
Kayaking in Larchmont Harbor: A Modest Proposal
New York Times article about kayaking in Larchmont Harbor:
Hope Floats

Kayak Launch Sites in Larchmont, Mamaroneck and New Rochelle, NY
The following is a list of sites in Larchmont and Mamaroneck where one could at least theoretically put in a kayak. [See maps below] Also some spots in New Rochelle and Rye where kayak launching is permitted.
Ones marked by ** are commonly used by local kayakers.

LARCHMONT
**1) the most popular put-in site in Larchmont is at the end of Beach Ave, so-called Dog Beach, where a public road leads along the Sound--be warned, there's no parking here. You have to leave your car several hundred yards away.
**2) where Ocean Ave curves to meet Magnolia. There is a turn-around loop and parking is allowed nearby. Be prepared to lift your kayak over a 5 to 6 foot retaining wall. Some local kayakers use this for entry.
3) Bay Ave., which ends at Larchmont Harbor with a stone retaining wall, and has a sandy beach below
4) off Lindsley Drive, at the edge of Flint Park, there are rocks that lead down to the water. Some people put in here. Muddy at low tide!
5) then there is Flint Park itself, at the edge of the new soccer field--be warned, though, the waters here are tidal, and there is a lot of mud at low tide. Also it's not clear whether the Village will allow this!
6) off Oak Ave, near Kane Ave, there is a village-owned lot which leads into the marshy tidal waters of the Premium River. Very muddy at low tide!
[7) if you look on the map, you can see Point Road, which comes off Pryer Lane--but forget about that one! Because of an unfortunate 1996 court decision (Eleanor W. Byrne et al. against the Village of Larchmont), nonresidents are actually banned from passing through this publicly-owned road-end!]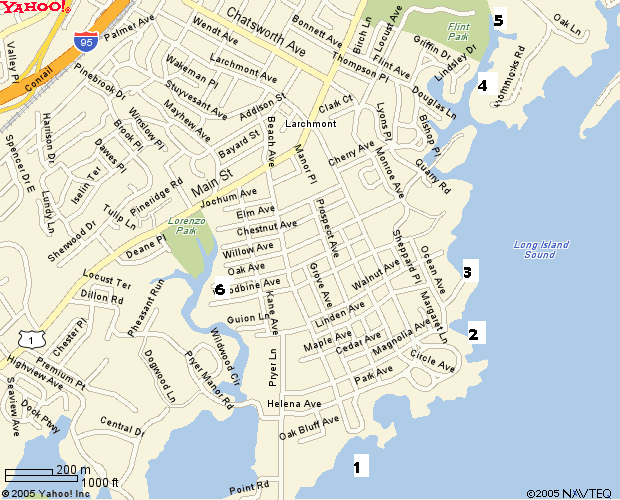 MAMARONECK
**1) Boat ramp in Harbor Island Park--you can put your kayak in there. Parking is available nearby; may have to pay during summer season
2) at end of Bleeker Ave. in Orienta--there is a road-end along the water. Signs say 'Private' but this appears to be a public road end. Used by some local residents, but no idea what reactions of police might be to use by others. There is on-street parking nearby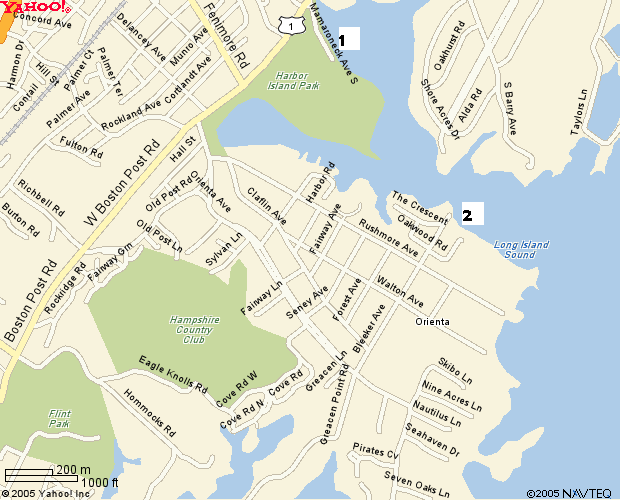 NEW ROCHELLE
**Glen Island Park: see below
**New Rochelle Municipal Marina:
Kayak/Canoe Launch Permit $50.00

Kayak/Canoe Summer Storage $100.00 (non-resident $200.00)

Mandatory Parking Permit per vehicle $75.00

New Rochelle Rowing Club (914) 636-9717 P.O. Box 7, New Rochelle, NY

A big old boathouse on the New Rochelle waterfront beside Hudson Park, which offers both rowing and kayaking options. See their site at www.newrochellerowingclub.com


[I haven't tried putting in in New Rochelle: this is from an email sent to me by a New Rochelle resident:

"The only place I've put in so far is at Glen Island Park which I think charges $4 for parking and $4 to launch a kayak. Last summer I kayaked mostly after work, and Glen Island stops charging in the late afternoon/ early evening so I only had to pay a few times and I always got a parking spot a few feet from the ramp/ dock. There is a park a little further south in Pelham Manor where launching might be possible although there are a lot of huge rocks along the shore so it might be very difficult. The New Rochelle municipal marina charges $50 a year for a launch pass (more for storage and parking?). There is also the New Rochelle Rowing Club, and I am waiting to here back from them about the cost."]

RYE
**Playland Park--parking fee is charged--see below.

WESTCHESTER COUNTY PARKS Boat Launching Sites
**Croton Point Park Croton-on-Hudson 914-862-5290
Provides access to the Hudson River and can accommodate sailboards, canoes and car-top carried boats only. Open April through October, from 8 a.m. to dusk, 7 days a week.
**George's Island Park, Montrose 914-737-7530
Ramp provides access to the Hudson River and can accommodate boats up to 21 feet in length. Open April through October, from 8 a.m. to dusk, 7 days a week.
**Glen Island Park, New Rochelle 914-813-6720/6721
Ramp provides access to Long Island Sound and can accommodate boats up to 21 feet in length. Park Pass Holder Daily $4 for Westchester residents. Open April through October, from 6 a.m. to dusk, 7 days a week.
**Playland Park, Rye 914-813-7010
Provides self-launching access to Long Island Sound for car-top carried boats and kayaks only. Open May through September, 8 a.m. to dusk, 7 days a week. Parking fees apply.
WESTCHESTER PARK PASS REQUIREMENTS
A Park Pass is available to all residents of Westchester County over the age of 12 for a fee of $45. Proof of county residency is required. Residents must present either a driver's license or two other valid forms of identification, one of which must be a photo ID. The Park Pass is not transferable and cannot be used by anyone but the holder. The pass is valid for up to three years from the month of issue. Family passes are also available, for a fee of $150 for 3 years.

To contact Kayakers Alliance of Larchmont and Mamaroneck, send email to kayakthesound@gmail.com.
compiled by David Hellerstein
<![if !supportEmptyParas]> <![endif]>
<![if !supportEmptyParas]> <![endif]>
<![if !supportEmptyParas]> <![endif]>